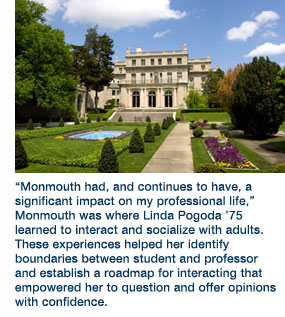 Monmouth University has come a long way since its founding in 1933. Since it began as a junior college offering only evening classes, Monmouth has been transformed into a world-class university with a multitude of undergraduate and graduate degrees. With encouragement and support from students, parents, alumni and the community, Monmouth offers unparalleled educational and leadership opportunities.
The generosity and support of alumni and friends make our continued growth possible. In today's environment, those gifts are more important than ever. With some time spent considering the best ways to structure gifts you may be able to make meaningful contributions while meeting personal planning goals as well. On the following pages you will discover ways to make gifts to Monmouth University you may not have thought possible. For example:
Learn how to give in ways that can actually "give back" for a time, providing extra income in retirement years or to help fund educational expenses and other needs.
Add meaning to your gift by using it to honor a special friend or loved one.
See how to save money on income, gift and estate taxes and redirect those amounts for use in ways you choose.
Enjoy your giving more, knowing you are investing in Monmouth in ways that allow you to give the most you can at the lowest possible cost.
We trust the information presented here will help you maximize the potential of your resources through preserving financial security for yourself and your loved ones.